Hamlett Films can help get your stories out into the world with Voices of Big Local.
Voices of Big Local is a project created by Local Trust in partnership with Hamlett Films.
Following a successful pilot, Hamlett Films offers storytelling training and mentoring for people taking part in a Big Local learning cluster or working with one of our support partners.
Local Trust is keen to hear how your learning experiences are inspiring you creatively. The idea is to share the knowledge you're gaining through Big Local in stories that can be told in film, photographs, writing, podcasts, spoken word or anything else!
I like the idea of being able to tell a story in a format I was comfortable with

Suzanne, Whitley Bay Big Local
What's expected of our Big Local partnership?
Unlike other support partners, Hamlett Films does not work with Big Local partnerships as a whole. Instead they will mentor an individual to help that person tell a story he or she cares about and which has motivated them to get more involved with Big Local.
For individuals taking part:
Put forward a story outline that you are passionate about telling. Your idea should be consistent with the priorities in your Big Local area plan and connect to your participation in a Big Local learning cluster or your partnership's work with one of Local Trust's support partners.
Complete the Expression of Interest form below and ensure it is supported by your Big Local partnership. You will then have an initial phone conversation with Hamlett Films to discuss your story idea and what's involved.
For the Big Local partnership:
The Big Local partnership should expect very limited involvement in the project and has no say over the finished work.
Be supportive to the person taking part and understand that they are putting time into a new project and learning new skills.
We have loved working with individuals and learning about their areas and their stories. We're looking forward to supporting more storytelling projects, and giving people the tools they need to share their creativity

Hamlett Films
More on Hamlett Films
In 2018 Hamlett Films piloted this offer with 4 people from Big Local areas who were taking part in learning clusters. They were:
You can read about their experiences in this blog
Who will you be working with?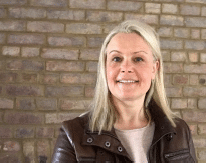 Elin Moe is an award winning Norwegian producer/director and photojournalist based in the UK. She has 20 years experience of making documentaries and factual television, and has worked for major UK broadcasters like the BBC, Channel Four and ITV as well as international broadcasters.
She has also made many films for UK Charities and NGOs. Between 2005-2010 she was hired frequently as a freelancer to make films for The Media Trust.
She is very experienced at dealing with difficult and sensitive subject matters, and often works with people with mental health issues and people from  vulnerable communities. Her work tends to take her to all corners of the UK. Elin writes regularly for a variety of newspapers and journals and produces podcasts and across a variety of subject matter.