As 2020 draws to a close, chief executive Matt Leach looks back at a year characterised by the challenges of the pandemic but also the solidarity and strength shown by communities in the face of crisis.
It is traditional at the end of the year to look back, reflect on what has passed, share lessons learnt, and speculate as to what might come over the next twelve months. But the last year has rendered much of that largely pointless. How do you capture the challenges, horror, achievements and (eventually) hope 2020 brought us in a short end of year blog?
Instead, perhaps we should pause for a moment to think about those who will be continuing to work hard over the festive period to sustain and support their communities, just as they have been doing since March. Reaching out and supporting the lonely and isolated, keeping spirits up and community facilities open, ensuring people get fed and helping neighbours and friends deal with grief and loss.
At the heart of bringing people together have often been grassroots community organisations."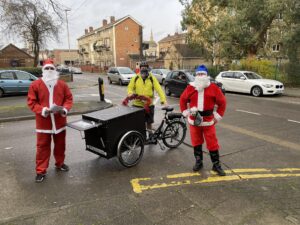 Across many Big Local areas, the next few weeks will see local residents working together to bringing festive cheer to their communities, whether delivering Christmas dinner in Devonshire West, Grace Mary to Lion Farm and Beechwood Wirral, gift parcels in St Matthews, Rudheath and Witton, Sale West, Westfield and the Warwick Estate in Knottingley, or Roseworth Ward and Sompting Big Local who are bridging their 250-mile distance to enjoy celebrations together. For all its grim toll, 2020 has sparked a revival in our appreciation of the value of community spirit and neighbourliness. One volunteer leader in Plymouth working with the Big Local programme there said back in June, just as they emerged from the first lockdown, 'This is what Whitleigh used to be like'.
At the heart of making that happen have often been grassroots community organisations, acting as an anchor in communities, bringing together and helping mobilise local residents, drawing on their local knowledge to identify need and ensure that others were looked out for.
If the term local social infrastructure has increasingly been used over the course of the last year, it is because of a growing appreciation that the existence of strong local civic institutions and activity is vital to the success of any community. And that where communities lack places to meet and organisations to bring them together it can affect their ability to respond at times of crisis – something highlighted in the APPG on Left Behind Neighbourhoods' report on the early impact of COVID. 
There has been a growing recognition of the need to support communities to build resilience and capacity."
It seems that – for now at least – the community is finding its place within parts of the political debate. We must hope that as we enter 2021, value continues to be placed on nurturing and developing community power, and supporting the development of the organisations that sit at the heart of the networks of mutual reliance, trust and reciprocal relationship that underpin the most successful local communities. Certainly, it seems there has been a growing recognition of the need to support communities to build that capacity where is missing or has fallen into decline. If that can be sustained and built on, perhaps It offers an exciting model of how we might do things differently and better in the future. 
It is already clear that COVID won't be the last crisis we face this decade. The climate crisis is already looming large on the horizon as the next big challenge. To tackle it we will need to embed resilience at all levels of society – nationally, locally and at a neighbourhood level. Can we learn the lessons of 2020 and put community at the heart of preparing our next response?