Katy Sneyd and Katie Brown, Rudheath and Witton Big Local, share how their knit and natter group is nurturing confidence, skills and friendships which span the generations, not to mention all the cosy knitwear
Approaching The Venue community centre in Northwich, Cheshire, the warm, sweet smell of freshly baked bread hangs in the air. Follow your nose, and across a busy dual carriageway, orange light glows out from two enormous windows at the front of Roberts Bakery, one of the area's most important employers.
Look for a moment longer, and through the floor-to-ceiling glass, soaring metal frames holding hundreds, possibly thousands, of loaves can be glimpsed – some of them, says community engagement officer Katy Sneyd, destined for the Rudheath and Witton Big Local breakfast club that's held every Wednesday.
"I'm really cheeky," Sneyd laughs. "I don't take no for an answer. They said 'we don't really do breakfast clubs' and I said, 'these breakfasts are being attended by your families. Why would you not give three loaves of bread for their kids to have some toast on the way to school?'" Her determination and energy are infectious: Roberts Bakery has been supplying Big Local ever since.
Today, however, is Thursday, which means people are turning up for the new Knit and Natter group that starts at two o'clock. Big Local has hosted the group at the community centre since October in response to a suggestion by local resident Katie Brown. Setting out her wool and needles on a table in the large, airy room into which a dozen or so women are now settling themselves with their knitting bags, Katie tells me how it all started.
Three years ago, Katie explains, she suffered a spinal cord injury in a car accident. It severely limited her mobility, and with it, her ability to leave the house. Life changed completely. "I have chronic pain. My husband gave up work. He's my carer now," she says.
After experiencing some "really dark times" she realised that she had to grasp back some level of control. Unexpectedly, her son sent her a book of patterns – "for knitting cats," she grins – and after some months spent concentrating on following the patterns, she realised she had become proficient. She had also honed a skill she could pass on.
"I texted Big Local the first time I got in touch, I was too anxious to phone," Katie remembers.
When Sneyd called her back, she told her she was "isolated and lonely, and that knitting was really therapeutic for me. I wanted to show other people how to do it, like my grandmother taught me."
She'd thought about going to a weekly knitting club held at the wool shop in town. "But it's £5 – that's a lot every week when you're on a low income," Katie points out. "Big Local offered me this space and said it would pay for the wool and needles to start us off. It meant anyone could come."
Sneyd spent a considerable amount of time supporting Katie as she planned how to run the group, and offered reassurance when her anxiety spiked early on. "Ten ladies came to that first session – it was heaving." Katie recalls. "All those people who couldn't knit! I had a big panic attack. I felt like running away."
Investing time to develop people's confidence and abilities has been a deliberate decision Rudheath and Witton Big Local has made as part of its Phase Two plan, Sneyd explains. "In the past, we've commissioned organisations to deliver projects that residents told us they wanted, or were needed in the area, but we've realised that this approach doesn't work if projects are going to be sustainable.
So we've started working in a different way: we've decided that our Big Local is going to be about our people. By focussing on empowering them to be the change, we stand a better chance of the work being sustainable.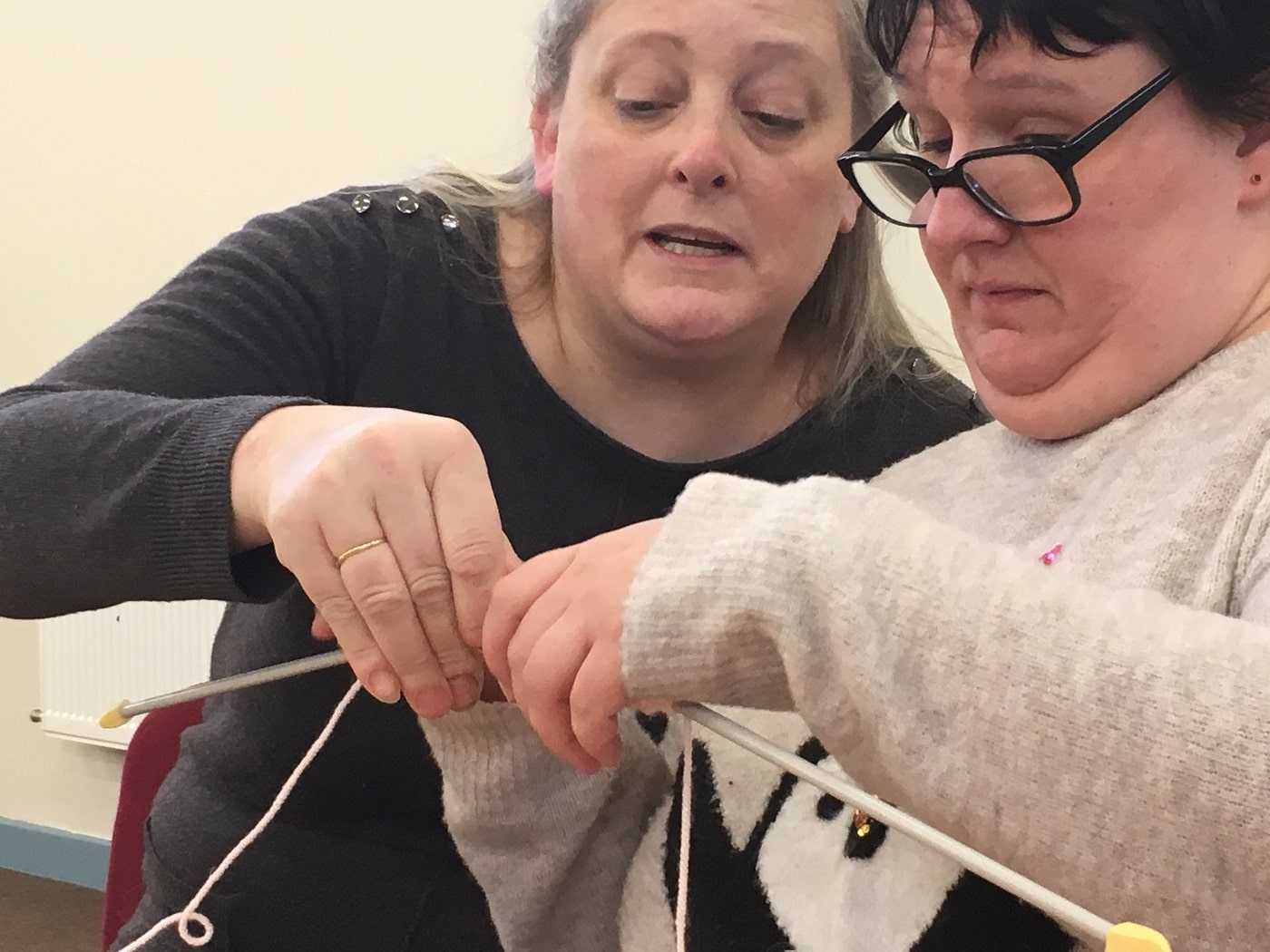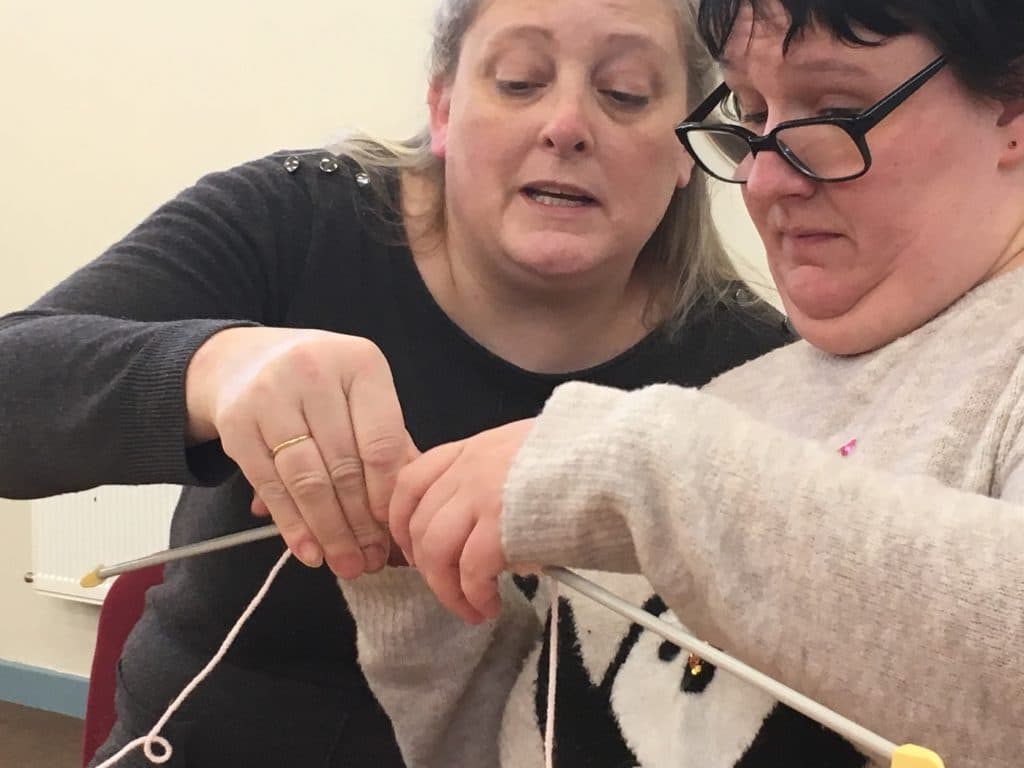 In this spirit, much of Sneyd's work is now geared to offering long-term, in-depth personal support – it could be termed coaching – to residents who approach the partnership with an idea they want to develop, but who might not yet have the confidence or expertise to get it off the ground.
Having taken a deep breath to calm herself, Katie tells me, she didn't run away. Instead, she taught all the newbie knitters how to cast on and do the basic knitting stitch. In the next session, they learnt how to purl. "By the third, they were knitting their scarves," Katie says.
Already, it's evident the Knit and Natter group is far more significant to its members, than simply a place to learn how to make a useful item of clothing.
For a start, the age range stretches from 87 to a toddler of 18 months, who has come today with mum Gemma, and is playing on the carpet. He's being minded by fellow knitter and Big Local vice chair Zoe Cadman, while Gemma – who would usually be getting out her wool and needles too – pops out to watch her daughter's play nearby.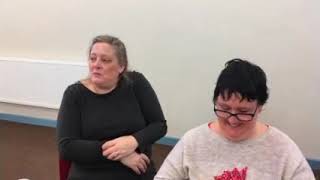 Unexpected connections are being made through the group. "It turned out she lives just three doors away from me!" exclaims Katie, pointing at Eve Handy, whose face creases in a smile as her needles click-clack speedily along a row. "How can I never have met her?" There's a lot of give-and-take going on in the room. With 60 years' experience – "I've always knitted and sewed, out of necessity, for my family," – Eve is well able to sort out other knitters' problems as they arise. "And I've met people I'd never have met," she adds.
As other people's scarves grow steadily longer, Gill Osborne is crocheting a blue blanket: "my chemo project" she says quietly. A teacher who's been signed off work while she goes through treatment, she's felt isolated since being diagnosed, she explains.
With my immune system compromised I'm quite wary of crowded places. I can come here and be creative, and it's a calm environment: it's somewhere I feel safe.
Sitting opposite Gill, with a part-knitted green scarf hanging off her needles, Linda Williams, a member of the partnership board, says the group gives her a reason to get out of the house now she's no longer looking after her grandchildren full-time. "I've always wanted to go to a knitting group, but £5 a week is hard to find, and here they provided the wool and the needles."
A feeling of relaxed camaraderie pervades the room. Katie makes her way around the tables making sure nobody is stuck. Suddenly Gemma arrives back from the play in a flurry, having collected her three other children from school. "This and the coffee morning, it's a lifeline," she says emphatically. She's on her own with the kids, she explains, so having support from people who understand her situation matters. "It's not just a group. It's everything."
It's clear that starting Knit and Natter has made a difference to Katie's state of mind, too. "It's given me a purpose. If you're in chronic pain all the time, and sometimes I wake up and I'm screaming, I needed to feel like I had a purpose, and I needed to make some friends."