As part of a series exploring Big Local responses to COVID-19, our journalist-at-large Ryan Herman speaks to film director Kate Hampel about the unique lockdown project funded by William Morris Big Local in Walthamstow.
What happens when you put together a producer from this year's cult hit football documentary, a guitarist in a chart-topping Britpop band, and the residents of a housing estate in lockdown?
Priory Court in the Act: A Musical Documentary tells the story of life inside in a set of East London tower blocks, where tenants concerned about the encroachment of property developers have been hemmed in by a new invisible threat.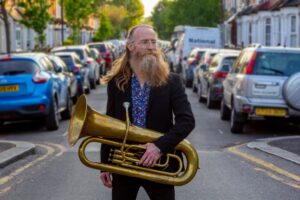 It features Outside, an insanely catchy song by composer and musician Rex Horan (right), featuring Adam Devlin of The Bluetones on guitar.
Kate Hampel is the director and her recent credits include the Netflix series Sunderland Til I Die, which has become essential viewing for football fans during lockdown. She has also worked the Channel 4 series Escape, BBC3's Don't Tell The Bride, and the award-winning Channel 5 series Child in a Million.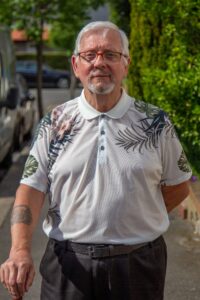 "I did some voluntary work around an environmental project at Priory Court last year. I realised how amazing the community centre was and how it is a lifeline for people who live there," she explains.
"I was aware that there were plans afoot to redevelop the estate. People seemed very concerned about it and the future of the community centre in its current state could be under threat.
"But the reason why I wanted to do this is from the outside Priory Court doesn't have the best reputation. I only live a couple of blocks away and it would be nice for the rest of Walthamstow to know more about it.
"It's very easy for people to make assumptions and those stereotypes break down as soon as you met someone who lives there. I'd like to give something back to a place that has a lot to offer."
She adds, "The process of making Priory Court in The Act was really good, even though it was crazily difficult. If you were making a short film in a conventional way you would meet people face to face.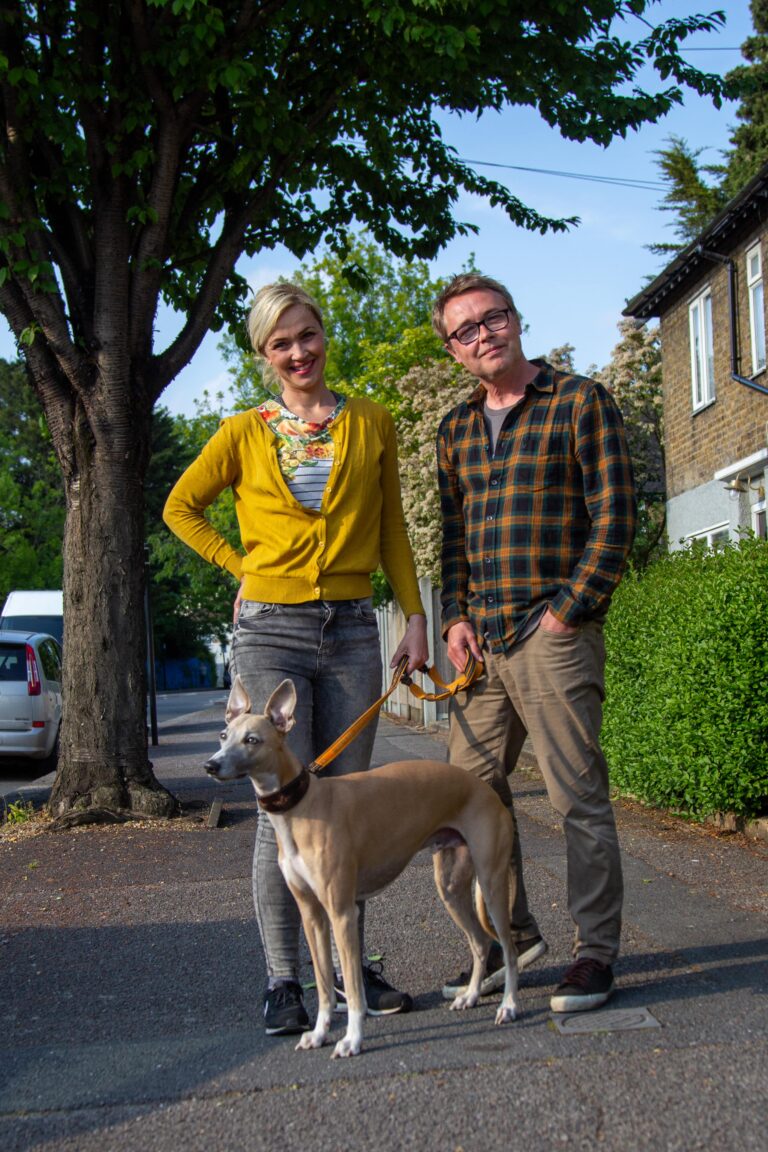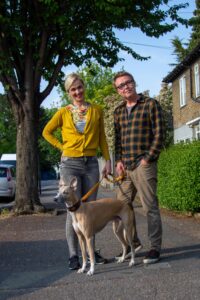 "Also, in some cases, people couldn't work what I meant by a 'musical documentary', but one of my favourite films is 'Feltham Sings' when a director called Brian Hill made songs with the inmates at the Young Offenders Institution.
"Adam's partner does a lot of work at the Community Centre. So I asked her on the off chance if she wanted to and she said 'oh my partner is a guitarist'. A day later he came up with a riff.
"Plus, it was also a chance to work with (composer and double bass player) Rex Horan who is usually on tour at this time of year."
Priory Court is an outlier in what has become an increasingly gentrified part of East London. It is uniquely-designed and was built in 1948, when Walthamstow West was the constituency of Prime Minister Clement Atlee. Some might regard it as an example of post-war 'architectural porn'.
As Kate explains,
"It has a pretty amazing history because when it was built a retinue from the old Soviet Union looked at is a Utopian example of what communal living could be. Even now, parts of it are quite beautiful.
"We had to think of different ways of using the material because most of it was shot by residents on mobile phones. So we used the exterior walls of Priory Court because it provided a natural canvas."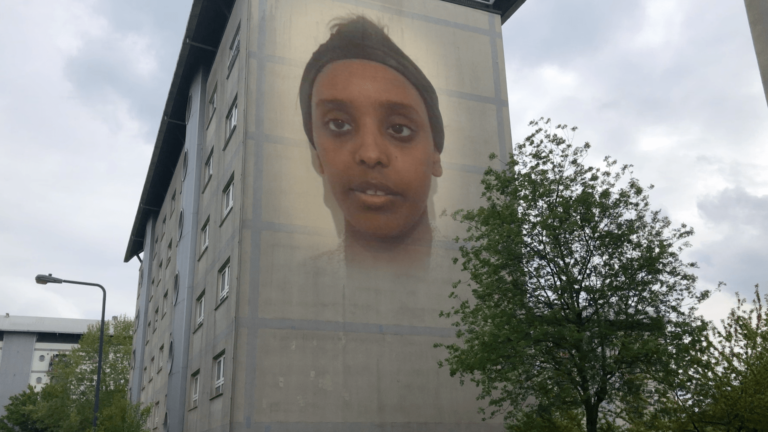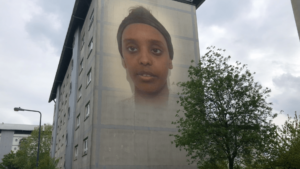 She pitched the idea after Waltham Forest Council (home to the London Borough of Culture in 2019) had set aside a budget for 'virtual culture funding' and projects that could be turned around in a matter of weeks.
It was also supported by William Morris Big Local and Kate says "I've had such a great experience working with Big Local. I always feel very positive and inspired by their projects. They had committed some money for a much bigger interactive documentary about Priory Court, but then coronavirus happened.
"I thought what would be nice to do something for people in a stressful time. So why don't we talk about the things we enjoy, and do something we enjoy.
"Rex and I were very conscious of using people's exact words and creating the verses out of that. So we had a long process of talking to people about their interests and thoughts on the pandemic. So they are very much involved creatively and it took about four weeks from start to finish.
"The title Outside came from Camron who is one of the kids featured and has autism. He found it difficult to comprehend the rules around lockdown and this mysterious danger outside that you cannot see. So it became about what they're missing rather than the challenging nature of their circumstance.
"One thing I also noticed is that every home has a phone but not everyone has a computer. Some families had one mobile between them. So imagine the challenge of trying to educate your kids at the moment."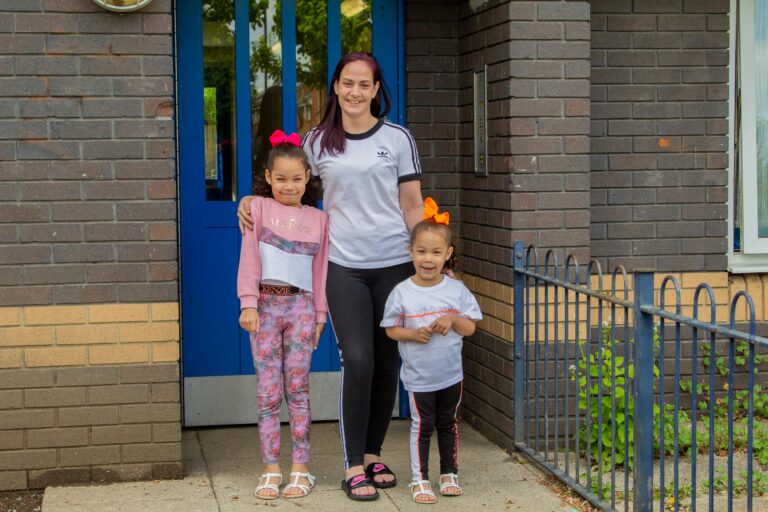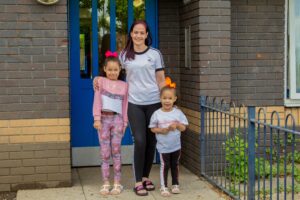 Priory Court in the Act went live on 10 May but has already generated thousands of views and shares through YouTube, WhatsApp and social media.
"I also think it's very important to show people that lockdown is really tough for people in a tiny, enclosed space and everyone is experiencing this in very different ways," Kate concludes. "If we end up going into a period of on and off lockdowns, then our understanding of space becomes even more critical."