Big Lunch experience in Leigh West.
This year an incredible 4.83 million people took part in the sixth annual Big Lunch. The idea, which came from the Eden Project, is to get as many people as possible across the whole of the UK to have lunch with their neighbours every year on the first Sunday in June in a simple act of community, friendship and fun.
You can read a snapshot of the Big Lunch day 2014 across the UK on the
Big Lunch website.
Here we're sharing the Big Lunch experience of a Big Local area in Leigh West – Leigh Neighbours project. Young people in Leigh treated passers-by to a barbecue feast as part of a fun way to encourage more young people to get involved in Big Local and their local community.
---
Big Lunch on us
By Wigan Council's Youth and Engagement Team
If you thought there was 'no such thing as a free lunch' then Leigh Town Hall Square was the place to be this week.
Young members of the Leigh Youth Voice group made lunchtime much more fun when they treated workers, shoppers and passers-by to a slap up spring barbecue feast – free of charge.
The youth group members, all aged between 14 and 21 manned the grill for three hours, serving hordes of visitors with burgers and hot dogs. There were sweets for the children and plenty of fun activities such as stickers and colouring in.
But this was no mere slap-up on the square, because behind the party atmosphere was a serious message about the great work young people do in their local community. It was also a chance for the members to reach out to other young people and encourage them to get involved.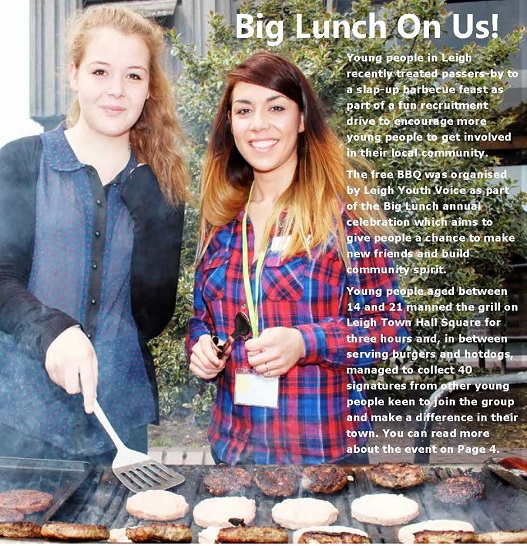 The barbecue was funded by Leigh Neighbours project (Big Local), as part of the national Big Lunch campaign to draw communities together.
Lisa Brew, joint-chair of the Leigh Neighbours partnership board and ambassador of the Leigh Youth Council, was instrumental in organising the event. She said:
"Leigh Neighbours project recognises the importance of engaging with young people to ensure they are enabled to play a positive role in their community and have a say on how this money is invested in the area. This event was designed to encourage more young people to get involved, to find out more about opportunities available to them and to have their say about the issues that affect them."
Lisa added:
"I'm delighted at the response from the young people we spoke to and I'm looking forward to seeing how this awareness campaign develops in the future."
Leigh Youth Voice meets every Tuesday at Kingsleigh Youth Methodist Centre. The group is supported by Wigan Council's Voice and Engagement Team and gives young people the opportunity to have a say about issues that concern them within their community.
Youth worker Karen Freeman explained:
"The young people thought this would be a great way to bring the whole community together. It was a celebration but it was also a chance for the young people to shout about some of the great things they are up to in Leigh."
The group initially targeted other young people with the event and asked anyone who grabbed the grub to sign up to get more information about Leigh Youth Voice and possibly even become members.
They asked adults who attended the event to give their names in support of their aims and ambitions.
And it's certainly true that the way to someone's heart is through their stomach because in just one hour the Leigh Youth Voice had collected more than 40 signatures from young people keen to join their group, together with supportive adults.
Youth Voice member Leonie Bury, 14, said:
It's really important that everyone in the local community knows more about the great work we are doing. It still seems to be the case that a lot of people think that young people cause a lot of trouble and anti-social behavior when in fact we are doing all we can to help improve matters.
We really believe that we should be involved in any project that looks to improve and regenerate the area because we are the future community. We want to have a real say in what happens.